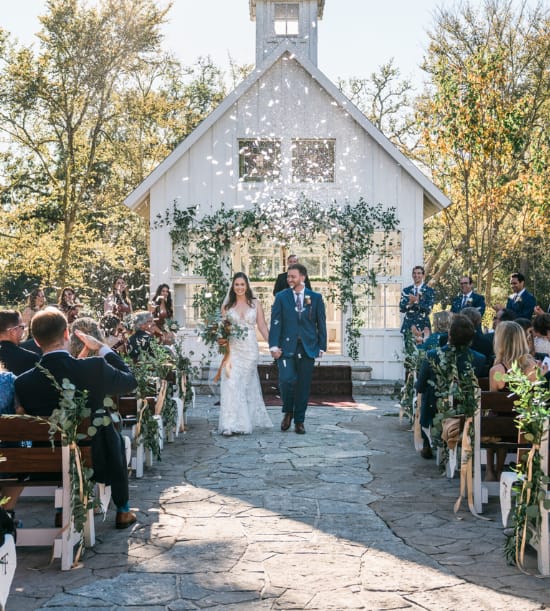 A Comprehensive Guide to Houston Weddings by Month" by Katlyn Dezarn of Dezarn Designs Wedding and Event Planner.
Finally! He finally popped the question! YOU'RE ENGAGED! You call your girlfriends, your cousins, your hairdresser, your dog, and your parents, and then you get the question, "So, when's the wedding?"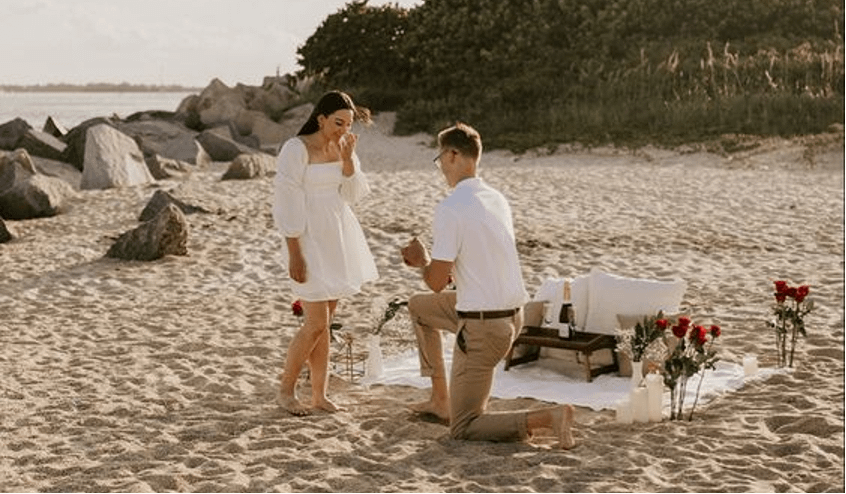 Let's talk about one of the first big decisions you'll need to make when it comes to planning your perfect wedding: the date! And boy, oh boy, does that date matter. It affects everything from the flowers you choose to the weather on your big day, to how easy it'll be for your guests to travel.
But don't you worry, I have broken down each month here in the Greater Houston area to help you decide what month is best for you to say "I do!"
January
Alright, let's kick things off with January! Sure, it may be a bit chilly outside, but that just means it's the perfect time for a cozy winter wonderland wedding. Think hot cocoa, fuzzy blankets, and all the romance that comes with the season. This is "off-season" for weddings, and that may work in your favor as venues/vendors might have lower rates. The flowers that will be in season during this time to make your big day even more beautiful include Amaryllis, Anemones, and Camellias.
The Martin Luther King Jr. holiday falls in January, which means some of your guests might just have a three-day weekend and even more time to party and celebrate your love! After just coming off the holidays, airports won't be too crowded, and will prices of accommodations be as crazy as they were during the holidays if you choose to get married this month!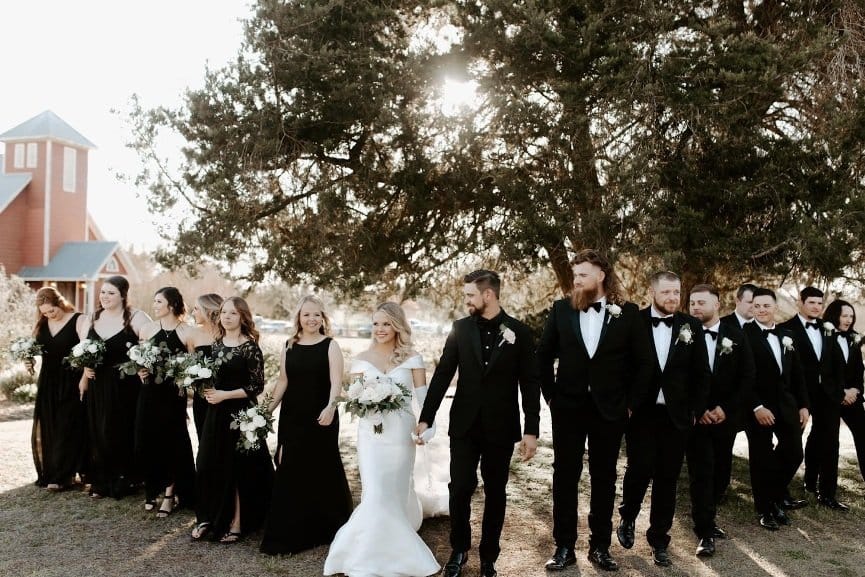 February
I may be a bit biased, as my own wedding took place on February 19th, but let me tell you – a February wedding is a fantastic option! Not only do venues typically offer off-season discounts, but with Valentine's Day this month, you'll already be in that lovey-dovey mood. The weather is usually warmer than other off-season months, with temperatures ranging from the high 40s to the high 60s. I know it might still be a bit chilly for some of us Southerners, but don't worry, there are plenty of indoor reception venues where you can keep cozy after enjoying the ceremony.
The end of February has a variety of exciting events going on here in the Greater Houston area. You've got the big Mardi Gras festival in Galveston, where you can enjoy all the beads, food, and fun that come with it. And if that's not your thing, there's also the rodeo downtown, where you can experience all the excitement of the wild west. Of course, with all these events come crowds, so if you're planning on tying the knot at this time, I'd recommend sticking to the northern side of Houston to avoid having too many late guests.
March
Ah, March! This is the month when nature comes back to life with vibrant greenery and wildflowers everywhere. And the weather, let me tell you, it's just perfect! Most days, you can expect it to be in the mid-70s, with a pleasant dip to the mid-50s at night. Not too hot, not too cold, and just the right amount of dry air to keep your makeup in place and your suits sweat-free. And the flowers? Oh, they're just stunning! Think daffodils, tulips, and hyacinths in full bloom.
March is also when Mardi Gras and the Rodeo are still in full swing, so you might want to avoid booking a venue in those areas. But that's just a small detail compared to all the wonderful things this month has to offer.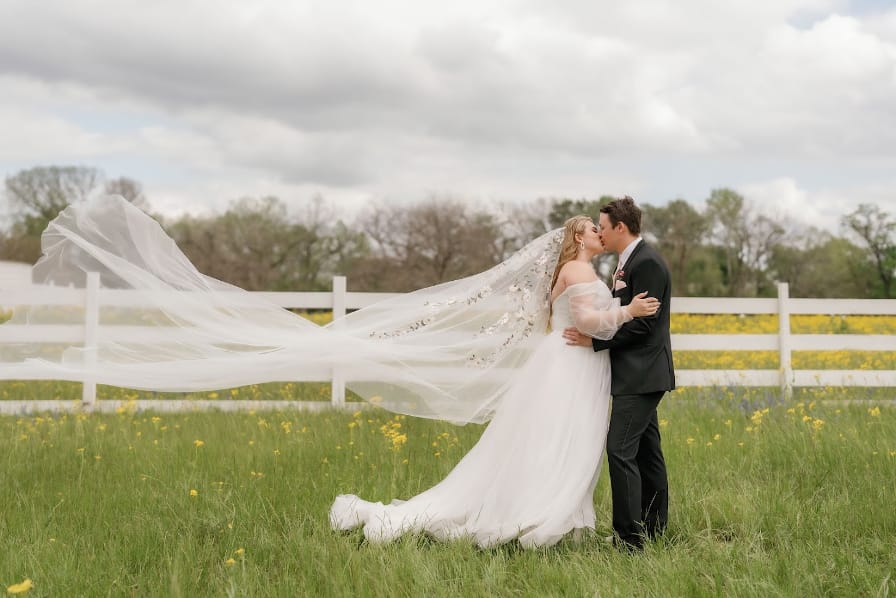 April
April, the month of blooming flowers and picture-perfect weather! Houstonians can enjoy the mid-60s to low 70s temperatures, with low chances of rainfall. So if you are planning to have an outdoor wedding ceremony, April is a great choice! The cherry on top? April has an impressive collection of flowers in full bloom, such as roses, peonies, lilies, lilacs, and iris, which means you will have an array of floral options for your wedding day! With all these stunning blooms, you can get as creative as you want with your floral arrangements and decor. In addition, there are hardly any large local events that will impact your guests' ability to maneuver throughout the city. So, if you're looking for the perfect time to say "I do" in Houston, April might just be your best bet!
May
May is definitely the start of the warmer and more humid months here in Houston, with temperatures ranging from 70°F to 86°F. Peonies, roses, and Sweet William are just a few of the stunning floral options in season. You can incorporate these gorgeous flowers into your wedding decor to create a stunningly romantic and elegant atmosphere. Just keep in mind that Memorial Day falls in May, which may affect your guest's travel plans. Houston hosts an annual comic and pop culture convention over Memorial Day weekend as well. The convention takes place in downtown Houston, which may cause increased traffic in the area. But don't let that stop you from having your dream wedding in May by choosing a venue that keeps you away from the downtown traffic.
June
June is when summer officially starts, and the party season kicks off! While temperatures can range from 75°F to 91°F, making it hot and humid outside, you can still plan an outdoor ceremony if you would like to have a brunch wedding when it's not as hot. However, it's important to keep in mind that June is also the start of hurricane season in Houston, so sudden thunderstorms are a possibility. Be sure to have a backup plan ready just in case! On the bright side, with peonies, roses, and delphiniums in season, your floral arrangements will be absolutely stunning!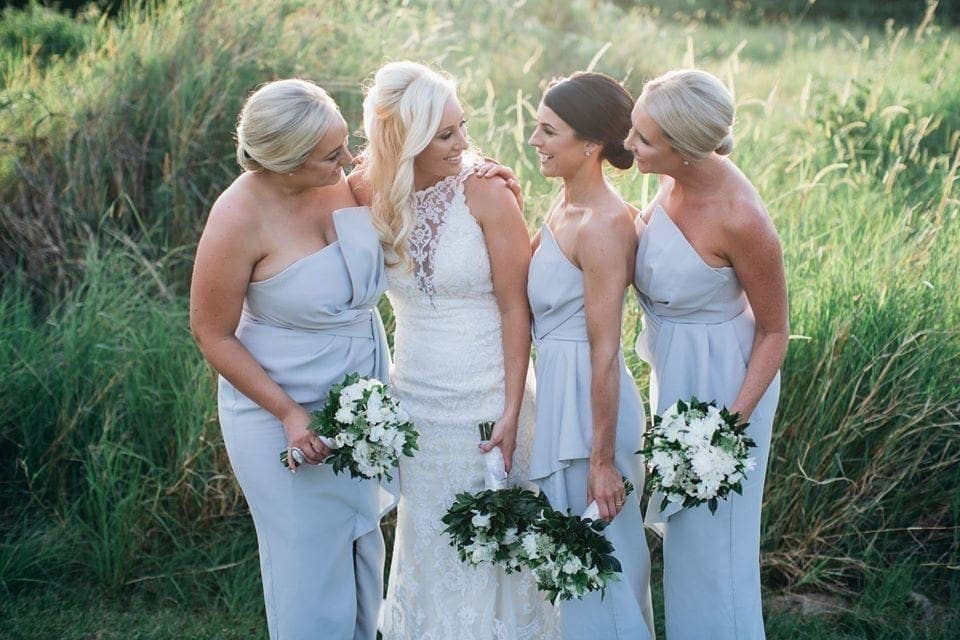 July
This may not be the ideal month for an outdoor wedding due to how gross you may feel after being outside for more than 10 minutes. There are still plenty of options available if you're set on having your wedding during this time, though. Many venues offer indoor event spaces that will keep you and your guests cool throughout the day. While unfortunately, you may not be able to take advantage of the natural beauty of outdoor areas, Indoor events can still be just as stunning, but may need some additional decor and florals. It's important to weigh the pros and cons of having an outdoor vs. indoor wedding if you are thinking about having your big day in July and choose the option that best fits your vision and budget.
As for florals, dahlias, gladiolus, and sunflowers will be in season! These flowers will definitely make sure your bouquets are bursting with color. And with the Fourth of July holiday at the beginning of the month, you and your guests might even be able to watch a local firework show at the end of your big day! Just be sure to keep in mind that travel plans may be affected by the holiday, so plan accordingly.
August
August is another hot and humid month in Houston, with temperatures ranging from 77°F to 94°F. Dahlias, gladiolus, and sunflowers are still in season, and you can add a tropical touch to your decor with some palm fronds and hibiscus. This would be a great month if you are looking to have a more casual affair where after the reception (or during if you guys decide to get crazy!) guests could take a dip in the pool or swim at the beach!
Houston Restaurant Week occurs this month! While this may not impact traffic at all, it may impact the crowds at your favorite restaurants for rehearsal dinner or your farewell brunch, so I would be sure to make reservations well in advance if you are planning to host at a participating restaurant.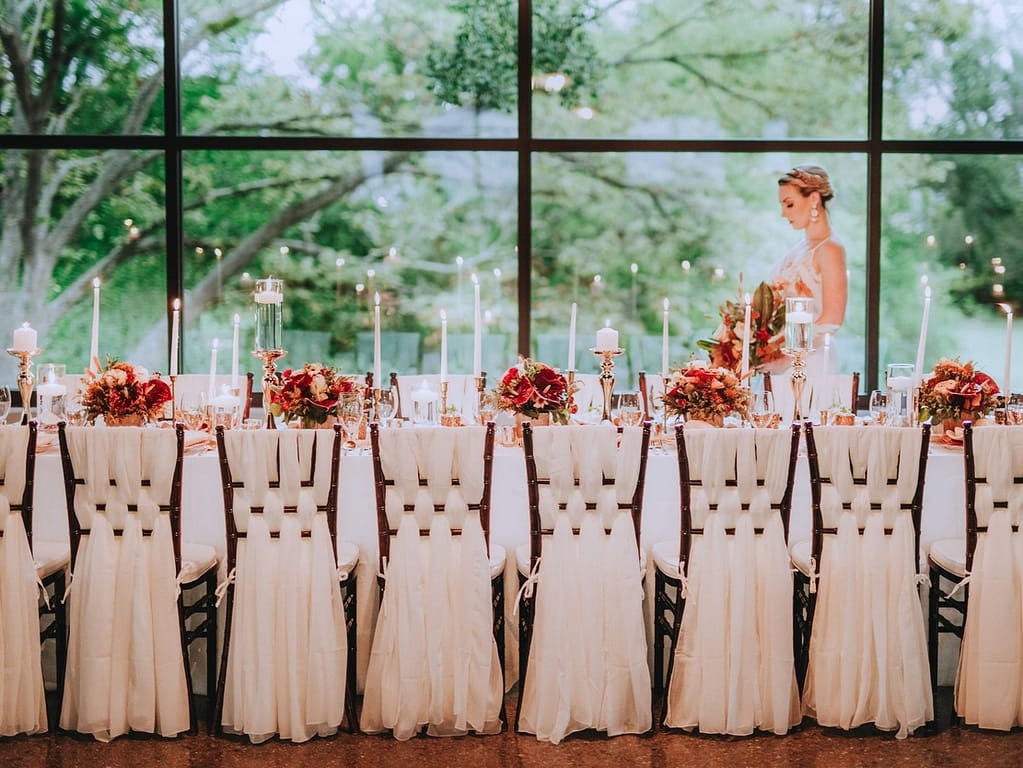 September
September marks the end of summer and the start of fall. But, the summer weather sticks around a bit longer, with highs in the low 90s and lows in the low 70s. This month does make it so outdoor weddings aren't absolutely unbearable! Sunflowers, dahlias, and asters are just a few of the floral options available during this time. Just make sure to plan around Labor Day weekend if you're expecting out-of-town guests
October
October is another great month for a wedding in Houston because the weather is cooler and more comfortable. The temperature typically ranges from the mid-60s to the mid-70s, and it's a relatively dry month with low chances of rain. Fall brings plenty of beautiful flowers in bloom, such as chrysanthemums, dahlias, and zinnias.
During this time, to the northwest of Houston, past Magnolia, the Texas Renaissance Festival is in full swing every weekend! If you choose to have your wedding during this month, I would steer clear of this festival because traffic can be CRAZY!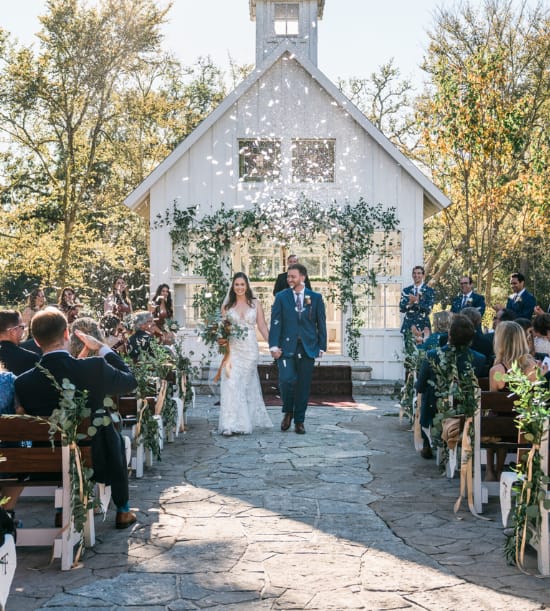 Table of Contents
November
Like October, November has a great climate, with temperatures ranging from 50°F to 70°F. During this month, you can expect to see chrysanthemums, roses, and carnations in season! This month may be tricky for guests with all of the holiday festivities ramping up. People will be trying to make plans to travel, and if you decide to have your wedding this month, I would advise you to plan it for the beginning of the month. The Texas Renaissance Festival continues for the duration of November as well, so again, I would take that into consideration when you go to pick your venue.
December
During December, your days will have a high in the mid-60s and a low in the mid-40s, making this one of the coldest months and not the most ideal for an outdoor wedding. Poinsettias, holly, and amaryllis are just a few of the floral options available, and you can even add some twinkling lights and snowflakes to your decor for a magical touch if you decide to have a December wedding. With the holidays in full swing, adding a wedding into the mix may make it hard for out-of-town guests to attend, very hectic for the family involved with planning, and difficult to get in touch with vendors that are taking well-deserved time off to be with their family. While I don't advise having a December wedding, they are still absolutely beautiful and can be full of even more love that is brought on by the holiday season.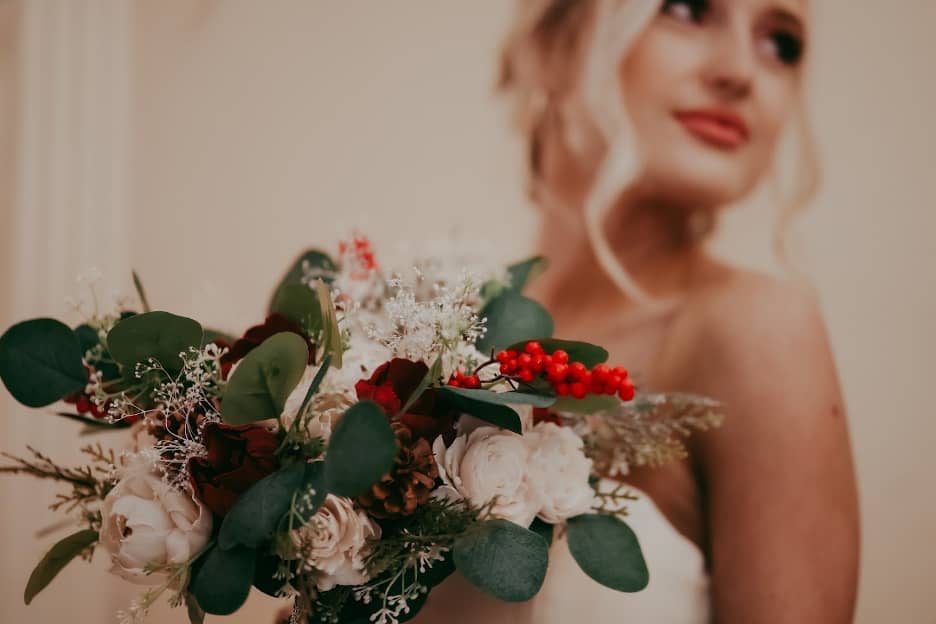 Houston is an excellent place to host your dream wedding, with a range of options throughout the entire year. February, March, April, and October are some of the best months to get married in Houston, as the weather is typically comfortable for outdoor ceremonies, and a variety of flowers are in bloom to create stunning arrangements. It's important to keep in mind any local events or holidays that may affect your and your guest's travel plans. With a little bit of planning and creativity, you can have an unforgettable wedding celebration in Houston that will be cherished for years to come!